Unfriended: Dark Web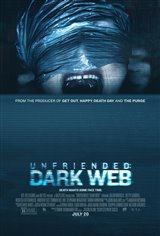 | | |
| --- | --- |
| Score: | 7 / 10 |
| Released: | July 20, 2018 |
| Director: | Stephen Susco |
| Producer: | Jason Blum, Timur Bekmambetov |
| Studio: | Universal Pictures |
| Cast: | Colin Woodell, Betty Gabriel, Stephanie Nogueras, Billy Drago, Andrew Bryniarski, Andrew Lees, Savira Windyani |
| Genre: | Horror |
| Length: | 88 minutes |
Unfriended: Dark Web Synopsis
Unfriended: Dark Web is a sequel to the 2015 movie Unfriended.

A group of 20-somethings gather once a week via Skype to play a round of Cards Against Humanity. One of the group, Matias (Colin Woodell), is a programmer who has taken a laptop from a Lost and Found because he needs a faster machine to help him build ASL translation software so he can communicate with his deaf girlfriend Amaya (Stephanie Nogueras).

When the owner of the stolen laptop starts threatening Matias using Facebook Messenger, Matias discovers a hidden folder full of violent films of women being murdered through slow and gruesome torture. Soon, the owner, who's a first-class hacker, begins bombarding Matias and his friends with threats.
Showtimes
(No Showtimes Listings)