Tag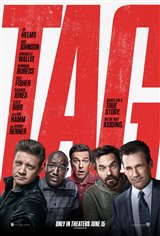 | | |
| --- | --- |
| Score: | 6.06 / 10 |
| Released: | June 15, 2018 |
| Director: | Jeff Tomsic |
| Producer: | Mark Steilen, Todd Garner |
| Studio: | Warner Bros. Pictures |
| Cast: | Ed Helms, Jake Johnson, Annabelle Wallis, Rashida Jones, Isla Fisher, Leslie Bibb, Hannibal Buress, Jon Hamm, Jeremy Renner, Lil Rel Howery |
| Genre: | Comedy |
| Length: | 101 minutes |
Tag Synopsis
For the entire month of May every year for the past 30 years, a group of five men have organized a no-holds-barred game of tag. They are allowed to make ammendments to it, but don't allow anyone else to join their game.

This year, the game coincides with the wedding of their only undefeated player, Jerry (Jeremy Renner). He doesn't invite his friends to the wedding as he knows they are determined to tag him. It's also the year Jerry decides to retire from the game.

They come up with a new ammendment so that they don't ruin the wedding -- they won't play the game during any wedding functions. But no matter how hard they try, Jerry always seems to be one step ahead of them.

Based on a true story, this comedy shows how the game has kept these guys connected for 30 years and given them a reason to be in each other's lives, through thick and thin. It also shows how far some guys will go to be the last man standing.
Showtimes
(No Showtimes Listings)