Hotel Transylvania 3: Summer Vacation 3D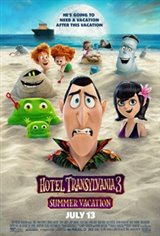 | | |
| --- | --- |
| Score: | write a review |
| Released: | July 13, 2018 |
| Director: | |
| Producer: | Michelle Murdocca |
| Studio: | Columbia Pictures |
| Cast: | Adam Sandler, Andy Samberg, Selena Gomez, Kevin James, Fran Drescher, Steve Buscemi, Molly Shannon, David Spade, Keegan-Michael Key, Jim Gaffigan, Kathryn Hahn, Asher Blinkoff, Chris Parnell, Joe Jonas, Chrissy Teigen |
| Genre: | Family |
| Length: | 97 minutes |
Hotel Transylvania 3: Summer Vacation 3D Synopsis
Hotel Transylvania owner Count Dracula (Adam Sandler) realizes he is lonely and decides it might be time for him to try and find love again after spending the last hundred years working non-stop. He attempts online dating but has no luck finding someone special. His daughter Mavis (Selena Gomez) recognizes how tired and lonely her father is and takes it upon herself to give him both a vacation and a chance at finding love.

She convinces Dracula to accompany her and the rest of their monster family on a luxury cruise so he can take a break from making everyone else's vacations so perfect and take one himself for once. Although he's initially reluctant, Dracula eventually agrees.

The group indulges in all the amenities and activities the luxurious ship has to offer. Dracula finds himself attracted to the ship's beautiful cruise director, Erika (Kathryn Hahn), who reciprocates his feelings. However, as it turns out, she is the great-granddaughter of vampire-hunter Van Helsing, which leads Mavis to question Erika's intentions.
Showtimes
(No Showtimes Listings)