A Simple Favor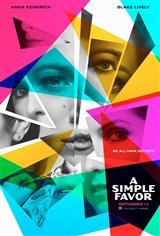 | | |
| --- | --- |
| Score: | 7.08 / 10 |
| Released: | September 14, 2018 |
| Director: | Paul Feig |
| Producer: | Jessie Henderson, Paul Feig |
| Studio: | Entertainment One |
| Cast: | Anna Kendrick, Blake Lively, Henry Golding, Andrew Rannells, Linda Cardellini, Jean Smart, Rupert Friend, Eric Johnson |
| Genre: | Thriller |
| Length: | 117 minutes |
A Simple Favor Synopsis
Stephanie (Anna Kendrick) is a blogger in a small town who happens to be a single mother. Her best friend, stylish and sophisticated executive Emily (Blake Lively), goes missing shortly after asking Stephanie for a favor. Emily's husband Sean (Henry Golding) has no idea where she is. Stephanie writes about the disappearance, asking her readers for help, and put fliers up all over town. 

As she looks into what happened, Stephanie begins to realize she really didn't know Emily very well at all. 

Based on the novel of the same name by Darcey Bell.
Showtimes
(No Showtimes Listings)