The Happytime Murders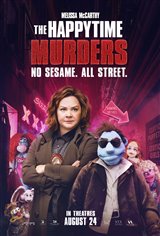 | | |
| --- | --- |
| Score: | 5.58 / 10 |
| Released: | August 24, 2018 |
| Director: | Brian Henson |
| Producer: | Ben Falcone, Brian Henson, Jeff Hayes, Melissa McCarthy |
| Studio: | VVS Films |
| Cast: | Melissa McCarthy, Maya Rudolph, Joel McHale, Elizabeth Banks |
| Genre: | Comedy |
| Length: | 91 minutes |
The Happytime Murders Synopsis
In a world where puppets co-exist with humans, hard-boiled puppet detective Phil Phillips (Bill Barretta), a former cop, sets off on the trail of the serial killer who murdered his brother. The killer, who is now targeting the cast members of the 1980s television series The Happytime Gang, has set his sights on Phil's former girlfriend, Jenny (Elizabeth Banks).

Phil teams up with his former police partner, Detective Edwards (Melissa McCarthy), to find the culprit, but as more and more clues surface, Phil begins to look like the only possible suspect. Not only does he have to find the killer, but in the process he hopes to clear his name.  

From The Jim Henson Company.
Showtimes
(No Showtimes Listings)