Peppermint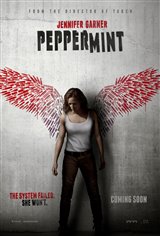 | | |
| --- | --- |
| Score: | 8.15 / 10 |
| Released: | September 07, 2018 |
| Director: | Pierre Morel |
| Producer: | Eric Reid, Gary Lucchesi, Richard Wright, Tom Rosenberg |
| Studio: | Elevation Pictures |
| Cast: | Jennifer Garner, John Ortiz, John Gallagher Jr., Cliff "Method Man" Smith |
| Genre: | Action/Adventure |
| Length: | 102 minutes |
Peppermint Synopsis
Riley North (Jennifer Garner) awakens from a coma following the tragic murder of her husband and young daughter. She learns that the men who committed the devastating drive-by shooting are in custody and are linked to the Garcia cartel. As a result, no witnesses are willing to testify against them.

The suspects' lawyer attempts to bribe Riley with a hefty sum of money so she won't identify his clients as the murderers. She refuses and the case goes to court. However, the system she trusts fails her as her testimony is disregarded and the judge declares the evidence insufficient. The suspects are freed. Devastated and frustrated at the lack of justice, Riley disappears for five years.

During that time, she methodically trains her mind and her body and transforms into a deadly assassin, prepared to take on the Garcia cartel herself. On the anniversary of her family's death, she eludes the forces that prevented justice to be served years before and seeks to avenge the murders with her own personal form of justice.


Showtimes
(No Showtimes Listings)